7. Data Protection Declaration
By Bernd Klein. Last modified: 10 Jan 2022.
You will find on this page information about the handling of your personal data when using our website. All data that allow a clear identification of the user are considered personal. The collection and usage of your data is carried out in accordance with the provisions of the German DSGVO (Datenschutz-Grundverordnung).
Contact information:
Bodenseo, Bernd Klein
Ph: 07731/20351010
E-Mail: [email protected]
We don't use cookies or other trackers on our website.
If our website is only informatively used, i.e. without using our contact forms, no personal data will be collected.
If you use our contact form, send an email to us or phone us, we will keep the data you will provide us with. This data will only be used according to the needs of this website.
Any usage of personal data beyond the purposes of this is excluded.
At any time you can obtain free information about the personal data we have about you as well as the origin, the recipient and the purpose of the data collection.
You have the right to request the correction, blocking or deletion of your personal data. This does not apply to data that is stored due to legal regulations or required for the proper conduct of our business. For all questions and concerns regarding the correction, blocking or deletion of personal data, please contact [email protected].
The rendering and presentation of content on our website technically requires the collection of certain data. With your access to our website, data is recorded in our server log files. These log files do not allow any conclusion about you and your person. The relevant information consists of the name of the website, the file, the current date, the amount of data, the web browser and its version, the operating system used, the domain name of your Internet provider, the referrer URL as the page from which you have switched to our site, as well as the corresponding IP address. We use this data for the presentation and delivery of our content as well as for statistical purposes. The information supports the provision and constant improvement of our offer. We also reserve the right to examine the data mentioned retroactively, should the suspicion of an illegal use of our offer exist.
The contents of our website are generally SSL encrypted for your and our safety!
Live Python training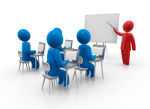 Enjoying this page? We offer live Python training courses covering the content of this site.