About this site
By Bernd Klein. Last modified: 24 Jul 2021.
Although Python is an easy to learn and powerful programming language as it is known in common parlance, there is nevertheless need of a good introduction and tutorial on the Python language.
Why yet another documentation and tutorial on Python? Aren't there enough websites with tutorials and books dealing with Python? Isn't there already everything said about this great programming language?
These were the questions which came to our mind, when we started this website in June 2010. Yes, there are lots of tutorials and introductions, but we wanted to present a different approach, with other - more interesting - examples, better explanatory diagrams and so on. We had a lot to build on, above all the longstanding experience of Bernd Klein as a computer scientist and Python lecturer. Actually, this online course is based on the material from the classroom training courses of Bodenseo and his book on Python.
Live Python training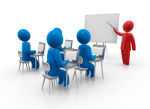 Enjoying this page? We offer live Python training courses covering the content of this site.
In this chapter