Introduction
By Melisa Atay. Last modified: 20 Jul 2022.
In this section you will find some projects to practice what you have learned with Python. There are both beginner-friendly intermediate and advanced projects for you to work on.
Live Python training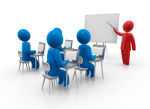 Enjoying this page? We offer live Python training courses covering the content of this site.
In this chapter
| Page | Description |
| --- | --- |
| 1. Wordle | A Wordle-based Python project |